Top 5 best baby formula dispensers in 2020
How to save your time and effort with the right baby formula dispenser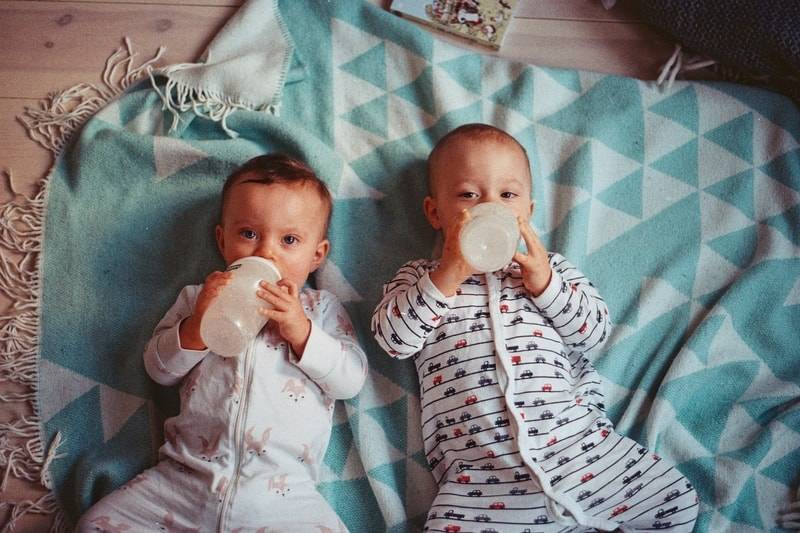 Preparing a baby bottle is somewhere between a chemical laboratory procedure and a cooking class. It's a meal that needs accurate measurements and full awareness of temperature. You also have to be 100% sure that every container is clean.
Here's another level of difficulty: you need to do this on the go, and outside the house as well. Having containers that make this process easier is essential. And hence, this list of the top 5 best baby formula dispensers.
Features to consider when buying a baby formula dispenser

Here's what you need to consider to pick the right baby formula dispenser
The range of prices for formula dispensers is often below the £10 mark. However, if you decided to get an automated formula dispenser, then you should expect to pay north of £50. It's totally worth it though!
Formula dispensers are versatile little things that come in handy in many settings. The most popular usage is for outdoor preparedness.
They're also practical at home. You can measure the right amounts ahead of time, then add water and you're done.
The automated formula dispensers are, of course, self-explanatory.
These dispensers are all efficient in their use of the required space. They are pretty compact and mostly portable.
The smaller ones fit inside a small bag, and the larger multi-compartment dispensers might require a baby bag.
Choose the smaller size if you'd only need to prepare a few feeds. The larger models with stackable compartments are best if you'd be out for longer, or prefer to have a variety of snacks.
Baby products are necessarily clean plastics. These containers can also be reused once your baby grows up. Who doesn't need a small container for on the go snacks?
The best baby formula dispensers reviewed

Here's a roundup of our favorite baby formula dispensers. There's a wide variety of designs for you to choose from. The budgets vary as well, so go through them, and see which one is the right dispenser for you.
1. Kidsmile Stackable Milk Powder Dispenser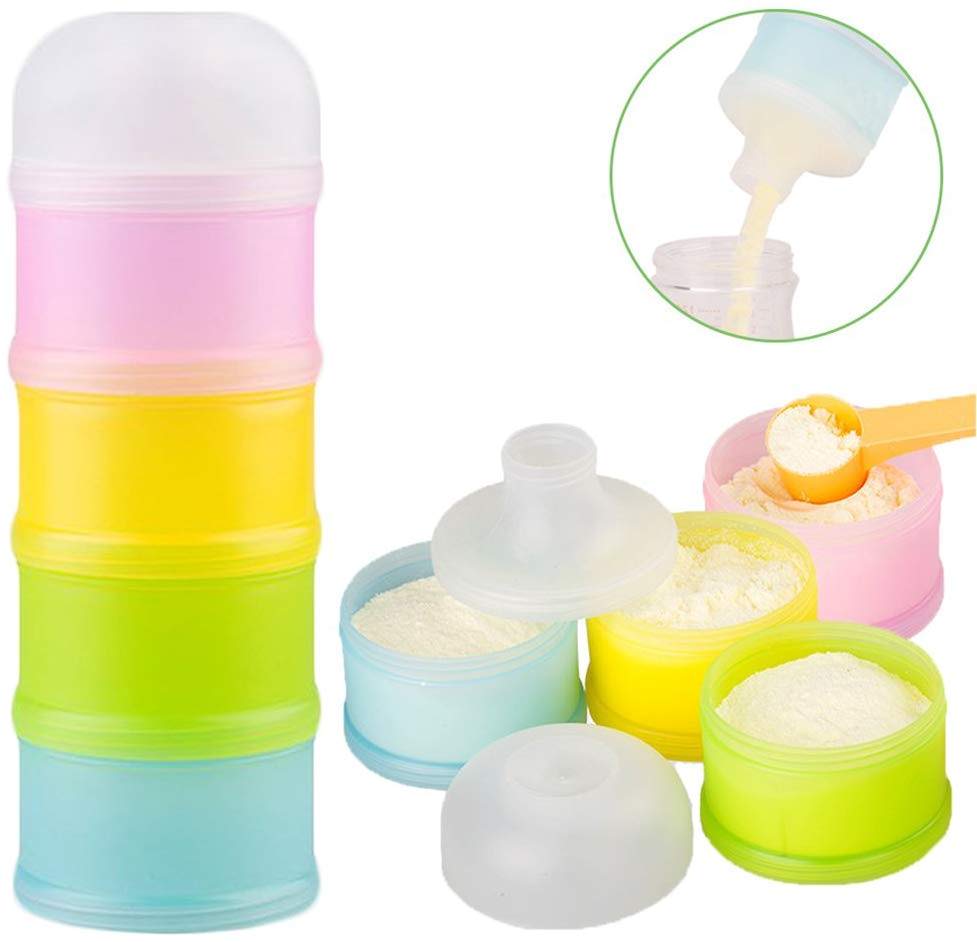 ---
Made from high-grade material

Dishwasher safe

Portable and compact

Moderately priced
This colorful formula dispenser should be among the baby basics in your bag. It's a simple yet versatile container.
You can stock it up with 4 exact portions for individual feeds, so you wouldn't need to measure the powder at each feeding. You can also top up the container with ten scoops of formula, healthy snacks, fruits, or baby food.
The opening of the top part of the dispenser is designed to help you in pouring out the formula. It's a neat way to prepare the baby's feed, especially when you're outdoors. Cleaning up is just as simple, and you don't have to clean the whole container, just the bits you use.
2. Philips Avent Milk Powder Dispenser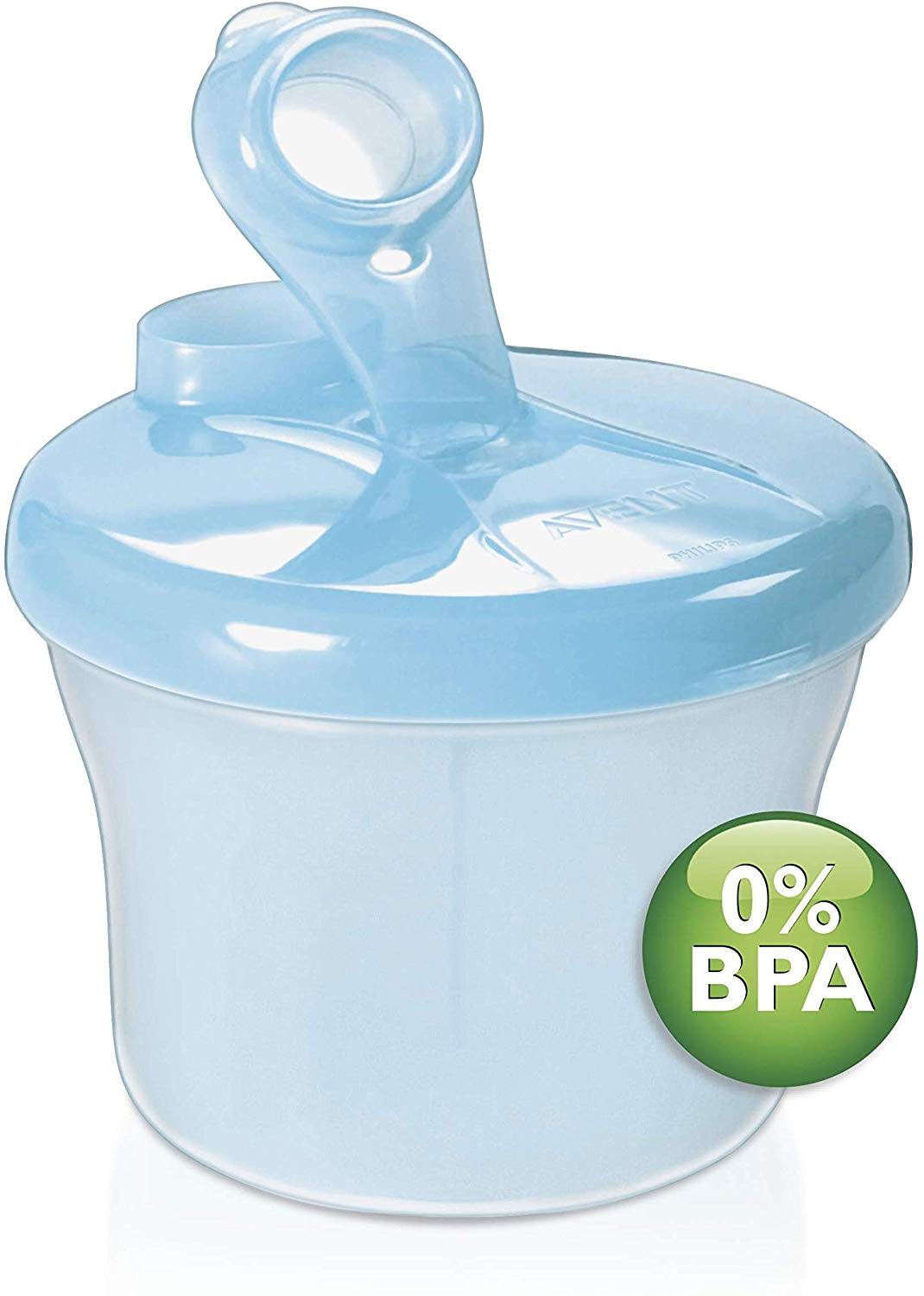 ---
Well suited for traveling

Microwave friendly

Dishwasher safe

Sterilizable

Compact

Multi-usage

High safety with 0% BPA
Less is more, and this formula dispenser is the perfect example. It holds three feeds, keeps them in top condition, and doubles up as a drinking cup in seconds.
It's the perfect travel companion, as it fits easily inside a small bag. If you're the type that prefers to pack lightly, then this is the perfect container for you.
You can remove the inner compartment, fill it with a nice baby drink, and give it to your child. If you'd like to warm up the beverage a bit, you can pop it inside the microwave. This is a feature we don't often see in dispensers.
It's crafted to dispense the correct amount of powder for a feed. It's also leak-tight, so it won't make a mess while preparing the feed, or when you're done. As you might expect, it's also easy to clean and pretty safe to use.
3. MAM Milk Powder Box, Formula Milk Powder Dispenser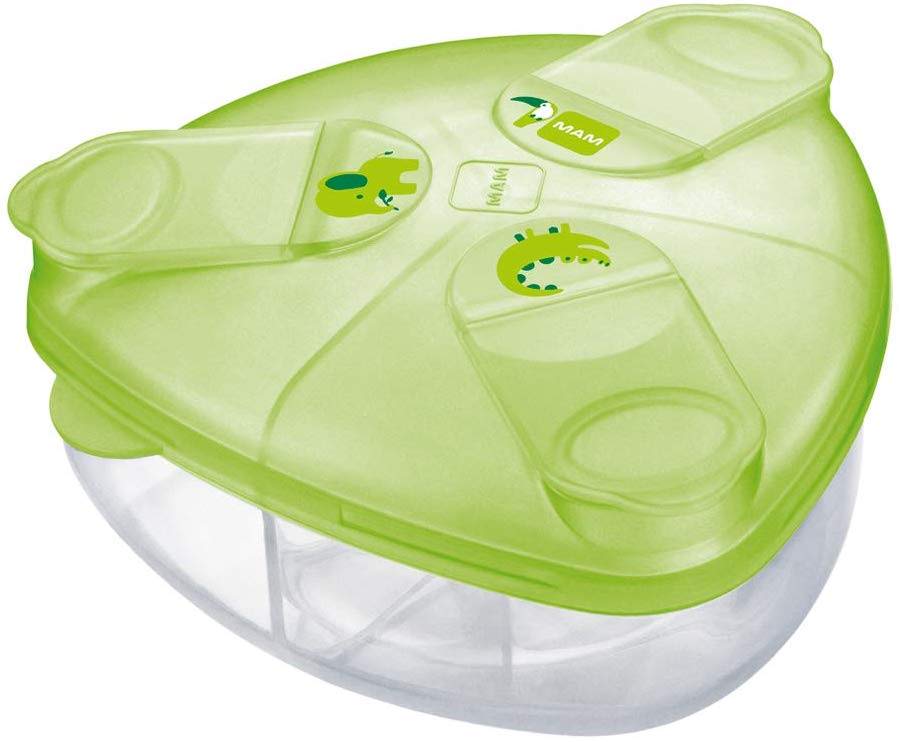 ---
Lightweight

Extra-large portions

Can be sterilized

Dishwasher safe

Convenient design

Free from BPA and BPS

Comes in three colors

Budget-friendly
It has three spacious compartments, so you can stock up all the nutrition needs of your baby, even if you'll spend the whole day out of the house.
Each compartment is triangular, so when you tilt it to pour the powder milk, it flows out without spills or waste. The lid locks are tight, and they are easy to open and flip shut. The best part is, that they're wide enough for refilling, but not too wide so they spill out too much formula.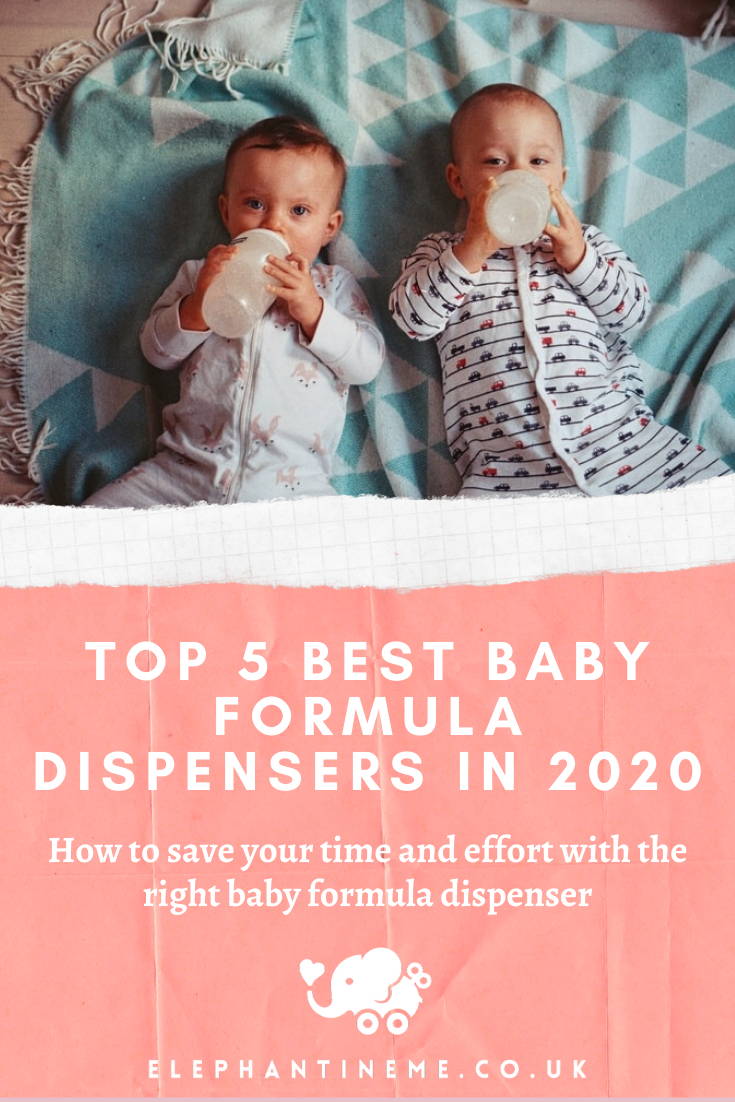 ---